At the risk of sounding relentlessly positive about all books, Graphic novels are great. The British don't really do them, and when I've talked to people they've always been quite snobbish about them – in a sort of 'they're kids books for people who find proper literature too hard' sort of way – Clearly those people have never read the books on this list. Or been to Europe where the Graphic novel is rightly celebrated and hugely popular. Or indeed ever come across an artist's book; again they're probably more popular in Europe, but the idea of the book as the art form, the images inseparable from the text, has been around for years – after all, illuminated manuscripts are basically monks doing graphic novels.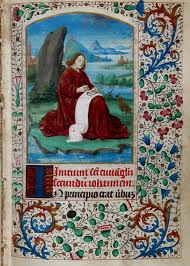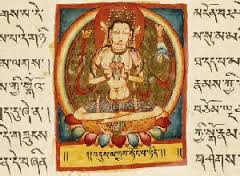 Also, if the images are as good as the writing (sometimes a lot better) then what's not to like? When I was a script editor at the BBC I was always telling writers to be more 'visual', begging them to write fewer words, less dialogue etc. I inveigh a lot against bad films that just take the plot of a book and add pictures, whereas really children should be allowed to add their own pictures and that will make them more imaginative and so on and so on. However, graphic novels are definitely an exception to that rule – In a truly good graphic novel the images become the way of telling the story, such that you can get amazing books like The Arrival (see below), or Asterix which has the story of the text and the story of the pictures, 2 for the price of 1. The trouble is, when they're this good people can't resist meddling so you end up something as nuts as an animated film of Asterix. It takes the original images, animates them and add absurd voices. Why why why? You lose all the graphicness of the individual images and end up with something utterly forgettable. Presumably aimed at people who are too lazy to move their eyes from one frame to another? The only good thing about them is that they're better than the live action versions…
Asterix – Goscinny & Uderzo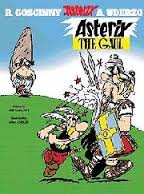 So – I don't need to say anything. In fact I could actually stop this post here and say these are the only graphic novels you'll ever need. I might even say the only books you'll ever need. I can't fault them. Except for the ones which aren't written by Goscinny. They should be written by him and illustrated by Uderzo. When Goscinny died and Uderzo had to do it all himself they went a bit odd (too post-modern with aliens and stuff). That said, a new one by two brand new people has just come out and is rather good – Asterix and the Picts; lots of jokes about whisky and caber tossing. They also work as well in translation as in the original. Not that that matters, but it's a testament to Anthea Bell, an amazing translator who I think did all of them. The names are certainly funnier in English than in the original French. I used to read them in Church every Sunday. They are funny, intelligent, narratively tight, uniformly good and you can read them time and time again and every time you do you find another joke you hadn't seen before. My Desert Island book would definitely be an Asterix omnibus.

Tintin – Herge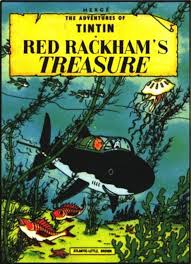 You can't talk about graphic novels without mentioning Tintin. And nor would you want to! I loved them and I still have many dog eared copies which are sadly falling apart. People say Tintin and Asterix are like the Beatles V the Rolling Stones (Oasis v Blur if you prefer) but I've got so much pleasure from both over the years. Tintin is more classic, there are many imitators of him (both in the aesthetic and the story-telling) in a way that Asterix avoids by being a complete original; Tintin is unquestionably more exciting, more plot driven, less funny (although Captain Haddock is genius) and actually should really only be compared because it's the other stand out success in the genre. And like the Gerard Depardieu films of Asterix, Tintin has its own Spielberg version to contend with. How the man who made Indiana Jones can then make Tintin is beyond me. Get the books and give them to your children. I've attached a link to an article about the two. Herge also usually crops up in the famous Belgians game…
http://www.newstatesman.com/culture/2013/12/lot-gaul
The Invention of Hugo Cabret – Brian Selznick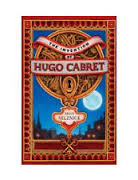 The story of an orphan boy who lives in a clock in a Paris railway station, and the first of the list to have had a film made that is worthy of it. This is a fantastic book, almost totally implausible (although there are elements of 'true story') but that's what so freeing and exciting about graphic novels – they are designed to be larger than life and all the more magical for it. Hugo Cabret lives in a magical, visual world surrounded by trains, clocks, and robots – through him we discover the birth of cinema and the workings of a railway station clock. Beautiful story, beautifully told and Martin Scorcese's 3D film is also stunning. It's a very faithful adaptation, but the 3D imagery is extraordinary, and absolutely what 3D is for. Brings something to the book which is suggested but can't be delivered.
Lucky Luke – Morris (and often Goscinny)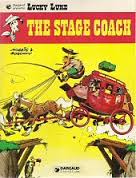 What is it with Belgians and brilliant graphic novels? Lucky Luke is the coolest cowboy ever, he 'shoots faster than his own shadow' and just like the man with no name, every book seems to end with him riding away singing 'I'm a poor lonesome cowboy and a long way from home'. The books riff on familiar Wild West celebs (the Dalton gang, Jesse James, Billy the Kid, Calamity Jane etc) and they are funny and really appealingly drawn. They don't have the same class as Asterix, the only recurring characters being Luke and his laid back horse Jolly Jumper, but they are fantastic escapist reads, and, like all good graphic novels, they are a great way to either get children starting to read (plenty of gun play but nobody ever dies) or to persuade reluctant readers of the sheer joy of sitting in a bean bag, opening a book and getting happily lost in another world.
The Arrival – Shaun Tan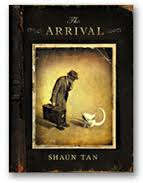 Gorgeous word-less story of an immigrant who arrives in a mysterious country and has to find his own way in the new world. The author says it was in part inspired by the story of the immigrant Chinese in Australia. It's fantastic to just flick through, and a great kicking off point for children who need inspiration for writing – ie 'what do you think is happening in this picture? What's he saying?' and so on. No words at all, that's a proper graphic novel. Deservedly award-winning.
Persepolis – marjane Satrapi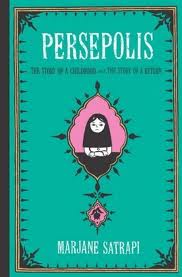 Brilliant autobiographical story about a girl growing up during the Iranian revolution, going to France and then returning to Iran. Simple, elegant and very moving. Haven't seen the film but it won many awards and was nominated for an animation Oscar. Interestingly this book was banned from being taught to seventh graders in Chicago. Apparently it's too graphic (well it would be…) – there is an image of torture which as the author pointed out "is hand drawn and is one frame'. Given that a seventh grader is usually 13 years old, you would imagine they can see a lot more upsetting things in your average Hollywood sanctioned PG-12.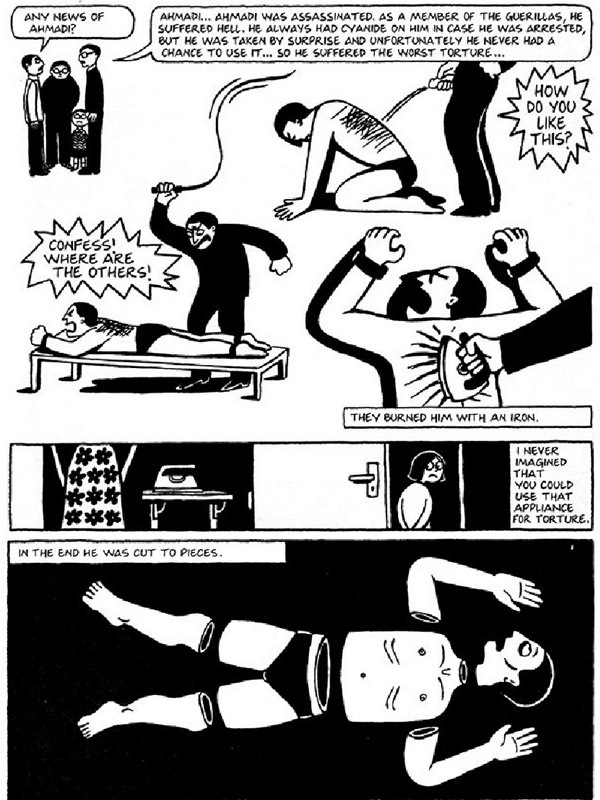 Anyway, it's an excellent book and you should ignore the good people of Chicago and get hold of a copy (it hasn't been withdrawn from libraries here).
Beebo – Phillippe Fix & Alain Gree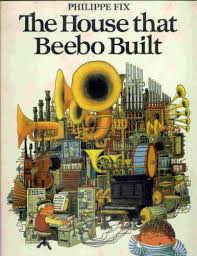 I loved this when I was growing up and when I picked it up again the other day I loved it again. Took me right back to hours spent looking at the fabulous pictures – the text is secondary, which I guess maybe makes it more of a picture book, but it's fantastic and maybe the text is better in the original French? Actually, now I'm older, the text, which is pretty much about the lunacy of ridiculous French Bureaucracy, is coming into its own far more. There are three of these books, each one ends with a surreal sequence which leads you into the next volume – in the one that's pictured, developers are trying to kick Beebo out of his house so he escapes into the air by using three steps, he just keeps putting one in front of the other, climbing onto it and then putting the one he's just climbed off in front again. That's the sort of magical logic a child will never forget. They are hard to track down because they've been out of print for a while, but if you can find them, I would urge you to buy them. Not least because I'll probably buy them off you! In French he's called Serafin.
The tale of one bad rat – Bryan Talbot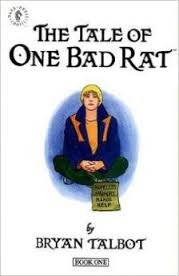 This is extraordinary – as you can see from that unmistakeable font (and also the title), this is from the world of Beatrix Potter but very very different. The heroine is called Helen Potter (I think Beatrix's real name was Helen) and it tells the story of her escape from her abusive father and gradual attempts to rebuild her life in and around Hill top, the place where Beatrix Potter wrote so many of her books. The Bad Rat of the title is many things, principally her abusive father, although the symbolism of self hate etc is there if you want it. Very thoughtful and thought provoking, this is on the list not because you should encourage your children to read it (this is absolutely a grown up book), or even because you should read it yourself (it's harrowing, especially for a parent), but more because it's utterly original, and for want of a more insightful word, unique. As all really good books should, this one stays and stays.
300 – Frank Miller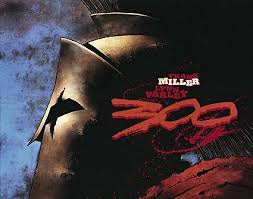 I'm not a fan of ultra-violent comics, and Batman and co leave me pretty cold. But maybe it's because it's 'period', or because it's such a great story, this one does it for me. This is macho nonsense. I loved it, and again, it's a great story.
Tamara Drewe/Gemma Bovary – Posy Simmonds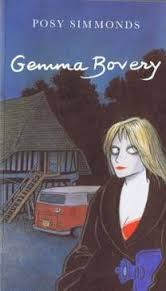 Far from the Madding Crowd and Emma Bovary, reworked as graphic novels and re-staged – Gemma Bovary is Brits in France, Tamara Drewe is wife of a novelist, a writers workshop in beautiful rural England etc. Both technically adult as they deal with adultery and dissolving marriages, but what a great way to get kids to think about two 'classic' novels?
The entirety of Tamara Drewe is available online – http://www.theguardian.com/books/cartoon/2005/sep/17/tamara-drewe-1 – if you want to read Gemmy Bovary, you'll have to buy it.
Maus –Art Spiegelman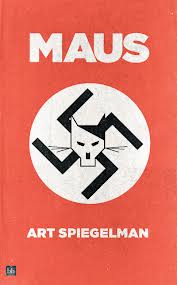 Allegory of the Nazi persecution of the Jews recounted from a holocaust survivor Polish Jew to his son. Only it's not really an allegory, it's told completely straight – there are the Nazis and they are gradually killing the Jews. The only allegorical bit is that all the Jews in the story are mice, all the Nazis are cats, and the non-Jewish Poles are pigs. It's devastatingly simple and all the more powerful for being a graphic novel. The characters are utterly 3-Dimensional, the narrative jumps between present and past, and it's deceptively gentle. When a Jew is in hiding his pig face is a mask tied on with string. Extraordinary. The first graphic novel to win the Pullitzer prize, and deservedly so.